Applying for a Project Based Voucher (PBV)
The PBV program allows low-income families to live in specific properties with subsidized rents. RRHA manages an active waiting list due to high interest in the program.
PBV applications are accepted year-round; see the process below.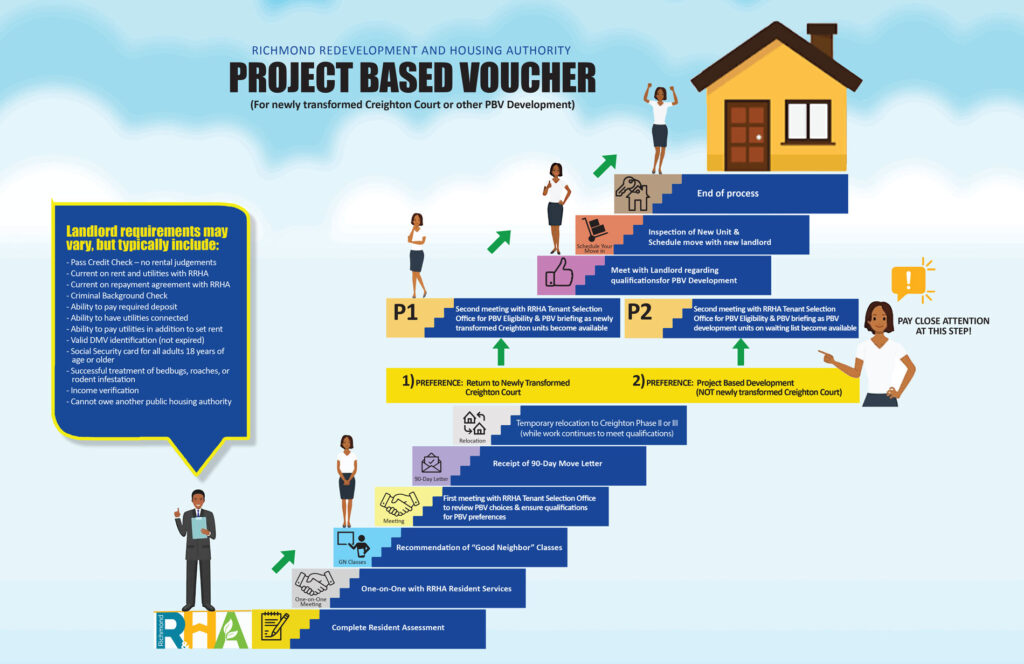 Applying for a Tenant Protection Voucher (TBV)
PBV participants who have been in good standing for at least one year may be eligible for a Tentant Protection Voucher which allows low-income families to live in privately-owned homes with subsidized rent.
The TPV waitlist is currently closed.
More about the Housing Choice Voucher Program (HCVP)
---
PBV Process
Step 1 – Applicant creates online account
Create an online account with our applicant portal. (If you already have an account, go ahead and log in!)
Step 2 – Applicant applies to be on the PBV waiting list
Once you have an applicant account, you may log in anytime to apply for property-specific waiting lists that best meet your family's needs.
Step 3 – RRHA emails applicant about placement onto PBV-specific waiting list(s)
Once your application is received, RRHA will confirm your family composition fits the bedroom size of that specific development.
Accepted applicants are placed on the waiting list. Rejected applicants are notified via email.
If selected to be placed on the waiting list, RRHA is unable to
determine or estimate wait time for housing assistance.
Step 4 – RRHA selects applicant to review eligibility for housing
Your place on the waiting list is based on the properties you selected and/or the date and time you applied. Once your name gets to the top of the waiting list, you will receive an email with instructions and a checklist of required documents. You must complete the eligibility packet and provide the documents by a specified deadline.
Once all documents and forms have been received, the Tenant Selection Office will verify background information. The whole process usually takes up to 90 days.
RRHA will review the waiting list application to be sure your family meets RRHA and HUD eligibility requirements, including:
Be a family unit as defined by HUD and RRHA.
Earn less than the HUD income limit for the family's size.
Be U.S. citizens or eligible immigrants.
Provide Social Security numbers for all members of the household.
Allow RRHA to collect and verify all family information.
Meet RRHA's standards for acceptable current or past behavior for all family members.
Step 5 – RRHA refers applicant to development for final approval
RRHA Tenant Selection Office will complete a referral form and submit it to the PBV development for final approval.
Step 6 – Applicant moves in
After final approval, RRHA will notify the applicant of a tentative move-in date.
---
HCVP Applicant FAQs
What are the income limits?
Income limits are established annually by the U.S. Department of Housing and Urban Development (HUD).
The Very Low (50%) Income Limits are used to determine if the family is income-eligible for the Housing Choice Voucher Program. RRHA compares the gross annual income of the family to the applicable income limit for the household size. Families whose income exceeds the income limit will be denied admission to the program and offered an informal review.
| Household Size | Gross Annual Income |
| --- | --- |
| 1 | $31,300 |
| 2 | $35,800 |
| 3 | $40,250 |
| 4 | $44,700 |
| 5 | $48,300 |
| 6 | $51,900 |
| 7 | $55,450 |
| 8 | $59,050 |
2020 Very Low (50%) Income limits for Richmond, VA MSA
How do I check my status on the waiting list?
I was selected to be an applicant on the waiting list. How do I change my contact information?
Changes to your contact information must be made online. Visit the applicant portal and login with your username and password.
I wasn't selected for the waiting list. I still need housing help. What should I do?
Review other information on this website to find out about other housing opportunities that the Richmond Redevelopment Housing Authority has available.
Additionally, you may also visit virginiahousingsearch.com and gosection8.com for information on affordable housing. If you need immediate housing assistance, please call 804-648-4177 to reach Central Intake.
My application was denied. What can I do?
If you wish to dispute the accuracy of the decision to deny your application you must submit a request in writing for an informal review no later than 15 days from the date of the decision.
If you are a person with a disability and require assistance or a reasonable accommodation due to a disability, language translation services, or communication in an alternate format, please contact the Housing Choice Voucher Program at 804-780-4361.
Can I get temporary housing during the application process?
RRHA does not offer temporary or emergency housing.
Get Adobe Acrobat Reader to complete the forms on your computer or mobile device.