Home > About RRHA > Leadership
RRHA Servant Leaders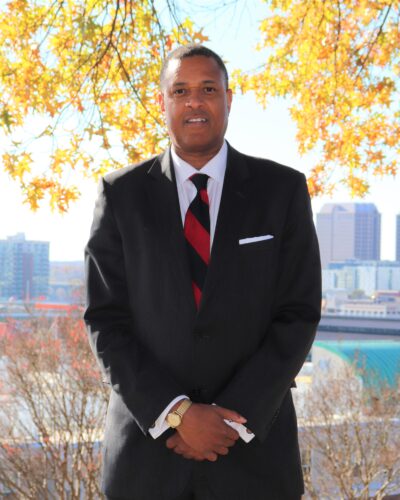 Steven B. Nesmith
Chief Executive Officer
Learn about Steven
Steven Bernard Nesmith is Richmond Redevelopment and Housing Authority 's Chief Executive Officer (CEO). By unanimous vote of the RRHA's Board of Commissioners, Mr. Nesmith began his role  August 26, 2022. In his position, Steven acts as a servant leader providing leadership and management in the planning, organizing, staffing, direction and control functions of the Agency.  Additionally, he interprets and implements policies approved by the Board of Commissioners and is responsible for the administration of Board policies.
Prior to joining RRHA, Nesmith served as the CEO of Capital Mortgage and Financial Services LLC in Chantilly Virginia, an advisory firm providing counsel to housing authorities, affordable housing developers, large and regional banks, financial services institutions and non-bank mortgage companies.
Steven brings an impressive array of experience including, but not limited to, extensive work in affordable housing, economic development, financial services, and banking. His mission to  reposition RRHA as the leader in affordable housing and economic development in the City of Richmond and the region will be accomplished by bringing together various public/private partnerships with an emphasis on attracting unique private sector investment.
The Philadelphia Pennsylvania native has lived in Virginia for 17 years and has served as Partner and Group Leader at the Holland Knight International Law Firm; Assistant General Counsel and Senior Vice President of Business Development at the Ocwen Financial Corporation; Chief Operations Officer (COO) at Fidelity National Financial; and Legal Counsel at Reed Smith LLP International Law firm. In addition, he served as Counsel at several Public Housing Authorities across the country in areas of regulatory and compliance issues, the obtaining of federal and state funding, and implementation of low-income housing tax credit programs. He also has extensive experience in Rental Assistance Demonstration (RAD) conversions under Section 8 Moderate Rehabilitation (Mod Rehab), and Section 202 properties with Project Rental Assistance Contracts (PRACs).
Between 2003 and 2005, he was Assistant Secretary of the U.S. Department of Housing and Urban Development (HUD) responsible for Congressional, intergovernmental and industry relations.
No stranger to public housing, Mr. Nesmith grew up in a public housing community and also served on their Resident Council.
A former college basketball Hall of Famer, Steven received his undergraduate degree from The American University and his law degree from Georgetown Law School, both in Washington DC.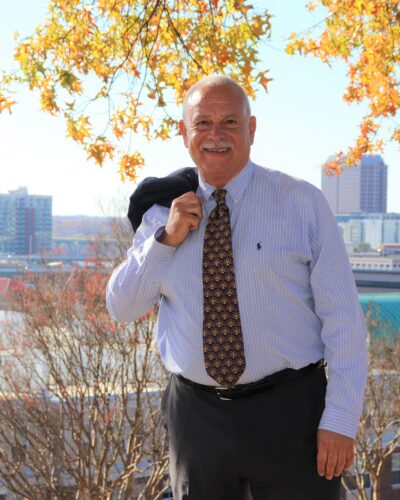 Michael P. Kelly
Chief Operating Officer
Learn about Michael
Michael P. Kelly took over officially as Chief Operating Officer of the Richmond Redevelopment and Housing Authority (RRHA) on November 1, 2022. Sought after for his talent, Mr. Kelly was pulled out of retirement by way of a longstanding relationship with RRHA CEO Steven Nesmith.
In his role as COO,  Kelly's primary objective is to assist the CEO in planning, managing, organizing and directing overall operations, services and housing programs of RRHA.  He is responsible for establishing, implementing, and monitoring all management policies and procedures to be followed by staff in the housing programs, capital improvement and resident service areas, and private contractors for the conditions of the properties.
Kelly began his career in the public housing arena as an architect for the San Francisco Housing Authority in 1983. He would later become the first registered architect to head a public housing authority in the US as the Agency's Acting Executive Director.
Kelly has over 30 years of experience in the affordable housing industry having served in the  top positions of housing authorities in New Orleans, Washington DC,  Philadelphia, and New York City Housing Authority – the largest housing authority in the nation.
In addition to this , Kelly has performed extensive professional service. He is the former President of the Council of Large Public Housing Authorities, a Washington, D.C. based national non-profit organization whose members represent large metropolitan areas in the U.S. The council works to preserve and improve public and affordable housing through advocacy, research, policy analysis and public education. He also served as vice chairman of the National Organization of African Americans in Housing and sat on the boards of the National Center for Housing and Child Welfare, of the District of Columbia Interagency Commission on Homelessness, and of the Canal Park Development Association.
The Philadelphia native enjoys a lifelong learning opportunity through teaching. With a Master's in Education, he has taught Urban Planning at such venerable institutions as Tulane, Georgetown,  New York University and others. He's very passionate about this vocation and the mutual benefit it brings. He gets energy from the  young adults he teaches and also gets to learn from them.
Kelly and his wife currently reside in New Mexico.
Darrell Davis
Senior Vice President of Real Estate & Community Development
Learn more about Darrell
Darrell Davis serves as Richmond Redevelopment and Housing Authority's Senior Vice President of Real Estate and Community Development. In this role Mr. Davis oversees all aspects of RRHA's affordable housing real estate portfolio including development, modernization, capital programs, acquisitions and dispositions, and central maintenance.  With a focus on creating new affordable housing communities, he is undertaking a comprehensive planning effort for the entire RRHA affordable housing and land portfolio.
Davis has nearly 30 years of development and finance experience from a variety of affordable housing powerhouses. Prior to coming to RRHA, he served as the Director of Housing and Neighborhood Revitalization in Charleston County, South Carolina. Prior to that, he served as head of development and modernization for housing authorities in Canton, OH, Pittsburgh, PA, Washington, DC, and Miami-Dade County, FL.
The Ohio native is a product of public housing and believes strongly in the mission of changing the trajectory of people's lives through safe, decent, and affordable housing. A strong proponent of giving back to the communities you hail from he has served in several government and non-profit development roles to include the Ohio Housing Finance Agency where he served on the Low-Income Housing Tax Credit allocation team, and the Columbus Compact Corporation where he worked to bring retail and housing development to inner city communities in Columbus, Ohio. Davis has also worked for private developers in Office, industrial, and retail real estate as well as market rate and affordable housing development.
He is a graduate of the Howard University School of Architecture and Planning. He and wife Eltina are the proud parents of five children and seven grandchildren.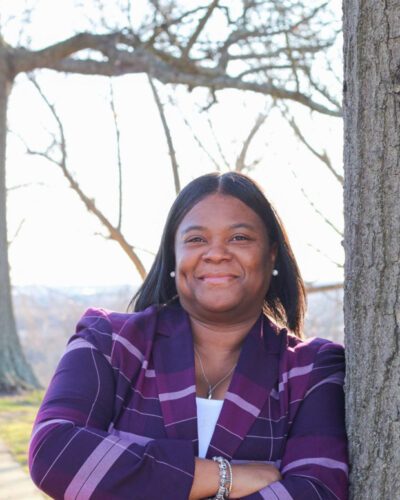 Kenyatta Green
Senior Vice President of Affordable Housing
Learn about Kenyatta
Kenyatta Green serves as the Senior Vice President of Affordable Housing for the Richmond Redevelopment and Housing Authority (RRHA). In this role, Kenyatta oversees RRHA's Operations portfolio, including Low-income Public Housing, Resident Services, the Call Centers, Housing Compliance, the Housing Choice Voucher Program, the Tenant Selection Office and Central Maintenance. No newcomer to the Affordable Housing industry, Kenyatta made her professional debut with the Housing Choice Voucher Program at the Cuyahoga Metropolitan Housing Authority, in Cleveland Ohio, the 7th largest Housing Authority in the nation.
Kenyatta relocated to Virginia in January 2018.  Prior being appointed to the interim COO position, Kenyatta served as the Director of RRHA's Housing Choice Voucher Program and Tenant Selection Office. Under her leadership, the HCVP program achieved successive High Performer designations. She brings vast experience as a certified Public Housing Manager and Housing Choice Voucher professional with more than 18 years of experience.
Green is an innovative thinker who is results oriented and tackles practical problems with creative and innovative solutions.  She holds a Master's of Public Administration, Magna Cum Laude, from Kaplan University. She currently sits on the Greater Richmond Continuum of Care Board and the University of Richmond Resident Advisory Board.
Kenyatta cherishes moments spent with family, is a proud wife and mother of two who enjoys waking up early to take morning walks.
Priscilla Bartee
Vice President of Human Resources
Learn about Priscilla
Priscilla C. Bartee serves as the Vice President of Human Resources for the Richmond Redevelopment and Housing Authority. Ms. Bartee joined the Agency on an interim basis in October 2021 and assumed the role permanently in June 2022.
The Dillwyn VA native is a retiree of the United States military, having served in the Army since 1987. She enlisted as a Tactical Telecommunications Center Operator and was later reclassified as a Human Resources Specialist.  She retired from active duty in October 2019 after serving over 30 years.
With over 25 years of Active Federal service in the Army, Ms. Bartee has served in multiple Human Resources capacities throughout her career to include training, recruitment, and civil affairs among others. She has been stationed around the world including detachment assignments in places such as Germany, Texas, California, Colorado and others. Additionally, she is a war veteran having been deployed to Saudi Arabia during the Persian Gulf War.
Prior to coming to RRHA, Priscilla oversaw the workforce operations of 1200 civilians and military personnel within four different locations across the United States. She served as the liaison and subject matter expert on all US Army Reserve benefits to include education, training, promotion, pay entitlements and incentives.
Priscilla is a graduate of the University of Phoenix with an Associate of Arts in Information Technology. She also holds a Bachelor of Science Degree in Information Technology from Columbia Southern University.
Further, Priscilla has an array of awards, acknowledgements and decorations to include the Meritorious Service Medal, the Army Commendation medal, the Army Achievement medal and many others.
She is highly dedicated to the service of the Veteran community, especially female Veterans.  Priscilla lives her life full of purpose and thrives on sharing her story with others to help them become better people overall.
She has one son, Tavarius, who is lives Chester, VA.
Derek Brooks
Interim Vice President of Procurement and Contract Administration
Derek Brooks
Derek Brooks serves as the Interim Vice President of the Procurement and Contract Administration for Richmond Redevelopment and Housing Authority. His responsibilities include planning, directing and coordinating all activities relevant to the procurement of goods and services. Mr. Brooks is no stranger to RRHA having started with the Agency in 2019 as a Contract Officer. Shortly thereafter, he was promoted to Assistant Vice President of Procurement and now interim VP.
In addition, he ensures that all procurement activities are done in compliance with state, local and Federal Procurement regulations and RRHA policies.
A lifelong Virginian was born and raised in Waynesboro, VA, came to Richmond for college at Virginia Commonwealth University (VCU) and stuck around. He describes his management style as democratic.
Derek earned his Bachelor's in political science and criminal justice and his Master's in Public Administration, both from VCU. In his spare time, he enjoys reading, learning new languages, vegetarian/vegan cooking, and nature trails with his dog Roxy.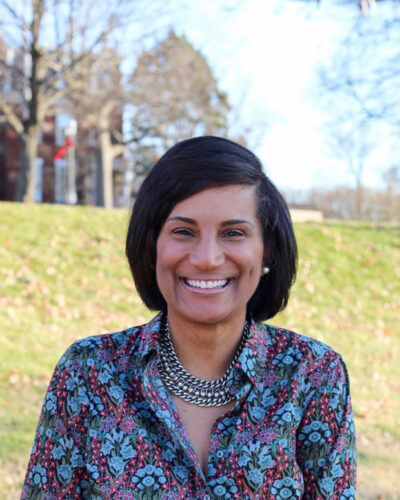 Angela Fountain
Vice President of Communications and Public Relations
Learn about Angela
Angela D. Fountain is Richmond Redevelopment and Housing Authority's Vice President of  Communications and Public Relations. In this role, she serves as spokesperson for the agency and is responsible for media and public relations, internal and external communications, public outreach and overseeing the external marketing firm. With more than 20 years' in the marketing, public relations and advertising industry, Angela's has worked in the academic, private and public sector communication fields.
Prior to her successful landing in November 2019 at RRHA, Fountain was the Public Information Manager for the City of Richmond's Department of Public Utilities for 15 years. She holds a BA in Political Science from Virginia Commonwealth University, is a self-described good cook, loves traveling, eating at good restaurants and writing poetry. Additionally, she is the proud mother of a NC State University student who begs her not to sing out loud or dance in public.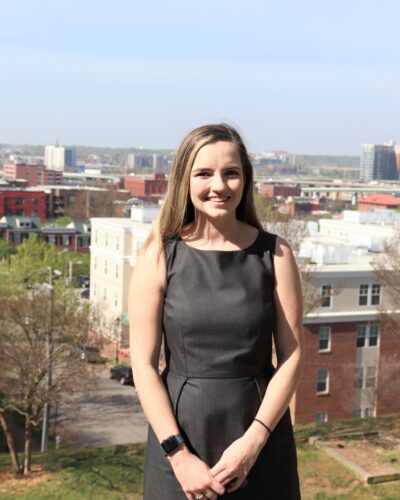 Alicia Garcia
Vice President of Real Estate & Community Development
Learn about Alicia
Alicia Garcia serves as Vice President of Real Estate and Community Development at the Richmond Redevelopment and Housing Authority. In this role Ms. Garcia brings a wealth of knowledge concerning federal, state, and local housing programs, regulations, and affordable housing development. She is responsible for overseeing development projects, creating transformation plans for the public housing communities, and preparing proposals for grants, subsidies and/or economic benefits in support of real estate development activities. Additionally, she provides research about local, state and federal regulations that may impact new development, redevelopment and new construction. She also provides leadership, strategic  planning and guidance and day-to-day management for all development related programs for the Agency.
Ms. Garcia has nearly a decade of experience in the development and affordable housing industry having served in the Affordable Housing Development arena at Walker Ridge LLC, a New York based construction and development firm, as a senior project manager at the New York City Department of Housing Preservation and Development and a Program Analyst with the Virginia Department of Housing and Community Development.  She has worked on several affordable housing deals which have created over 3,000 permanently affordable rental units in New York City.
A proud Virginia Commonwealth University "Rams" fan, Alicia holds a Masters in urban and regional planning and a Bachelors in political science, both from VCU in Richmond VA.  Alicia said that her passion and curiosity for affordable housing started when she first came to Richmond, VA for college and volunteered tutoring students in the Church Hill neighborhood.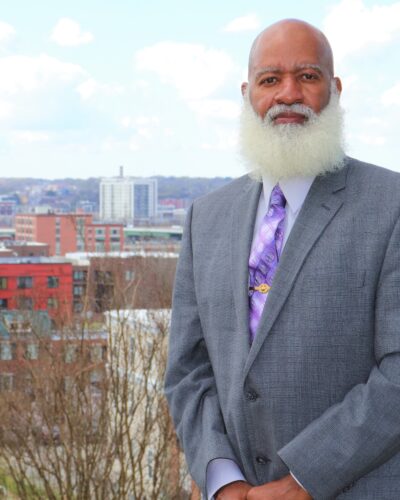 Martin Harrison IV
Vice President of Public Safety
Learn about Martin
Martin Harrison IV serves as the VP of  Public Safety of the Richmond Redevelopment and Housing Authority (RRHA). He took this position on January 25, 2022 after a distinguished 33 year career of public service in law enforcement with the Richmond Police Department (RPD). While at RPD Harrison served as the Third Precinct Commander at the rank of Captain. In addition, he also served as the Commander of the Disciplinary Review Office.  His list of achievements with the police department are far reaching and varied and includes work in the police K-9 unit where he trained three dogs, a stint as a motorcycle officer, and work in the narcotics and vice unit. His main responsibilities at RRHA are to develop and implement plans and procedures to ensure the well-being, safety and quality of life for the families and employees within RRHA's purview.  In the performance of these duties, Captain Harrison works in partnership with residents, RRHA staff, stakeholders, and local law enforcement. A native of New Orleans, Harrison is extremely family oriented. Although his work requires a very serious side, he finds a good balance with hobbies that allow him to relax and unwind. In his spare time, he enjoys motorcycling, playing scrabble, playing basketball and reading.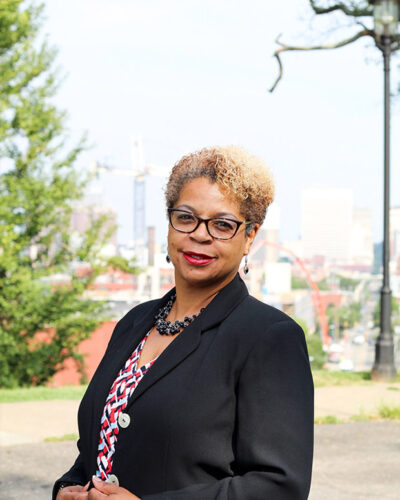 Jacquelyn Salaam-Hicks
Vice President of Information Technology
Learn about Jacquelyn
Jacquelyn Salaam-Hicks serves as the VP of Information Technology for the Richmond Redevelopment and Housing Authority. In this role, Salaam-Hicks directs the effective delivery of networks, development, and disaster recovery systems and processes, oversees technical projects in alignment with organizational goals, and works collaboratively with all other divisions within RRHA to meet overall IT needs.
Jackie came to the agency in 1993 as a Systems Specialist for the Heating Ventilation & Air Conditioning computer system.  She was responsible for implementing RRHA's first Helpdesk. A 30-year resident of Richmond, VA, Ms. Salaam-Hicks earned her BS in Information Systems and Operation Management from University North Carolina at Greensboro.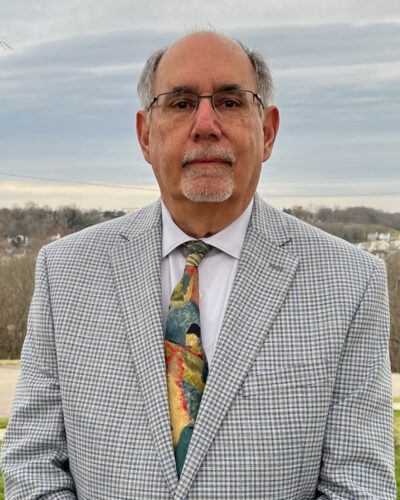 Joe Sarver
Vice President of Maintenance Operations
Learn about Joe
Joseph Sarver serves as the  Vice President of Maintenance Operations for the Richmond Redevelopment and Housing Authority.  Mr. Sarver's extensive and distinguished career includes significant experience as an energy analyst, facilities manager, business developer, and engineer. He is a Richmond native and has been with RRHA for 18 years. Sarver holds a BS in Physics from Virginia Commonwealth University, a Control Systems Engineering certificate from Honeywell Inc., and is a certified maintenance manager.
He has authored numerous technical publications related to mechanical systems.  He and his wife Susan have two adult sons, Evan and Grant. Joe is an avid volunteer, enjoys spending time with family, tennis, and nature and sports photography. He is also an accomplished, lifelong musician and a member of the music ministry at St. Michael's Church.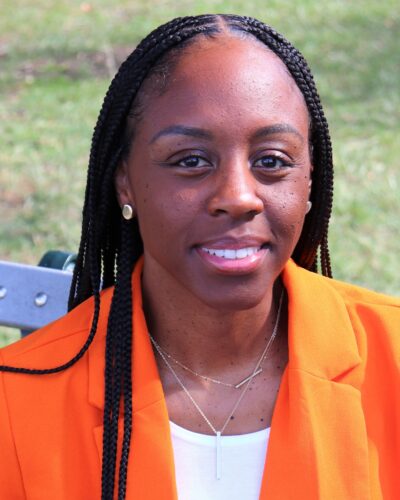 Fatimah Smothers Hargrove
Vice President of Housing Choice Voucher Program and Tenant Selection Office
Learn about Fatimah
Fatimah Smothers Hargrove is Richmond Redevelopment and Housing Authority's (RRHA) Vice President of  Housing Choice Voucher Program and Tenant Selection Office, a position she assumed on Thursday, July 14, 2022.
In this role, Mrs. Smothers-Hargrove manages the following teams: HCVP & TSO divisions, the Inspections and Leasing Team and the Call Information Center. The Vice President of HCVP and TSO serves as an active liaison between housing partners and landlords, oversees day-to day operations of the HCVP, TSO and client information center and maintain positive working relationships.
Mrs. Smothers-Hargrove has been with RRHA since 2009 when she joined the Agency as a temporary employee in the Human Resources division. Following that she was hired as a program eligibility technician with the Tenant Selection Office. In 2019, she became the supervisor of the Tenant Selection Office and in 2020 the Call Information Center was added under her supervision, in which her role became the TSO & Call Information Center Manager.
This Richmond native enjoys serving our local families and the opportunities to provide them with housing options in neighborhoods of better opportunities.
Fatimah holds a bachelor's degree in business management with a minor in marketing from Virginia State University. One of her favorite quotes is "Never let the odds keep you from doing what you know in your heart you were meant to do," by H. Jackson.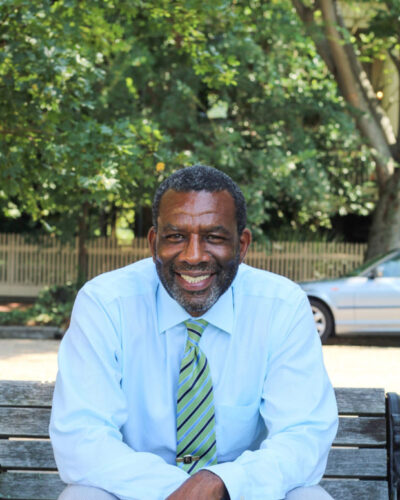 Ralph Stuckey
Vice President of Resident Services
Learn about Ralph
A 25-year veteran in the human services and affordable housing arena, Ralph W. Stuckey serves as the Vice President of Resident Services for Richmond Redevelopment and Housing Authority. A passionate advocate for human equality and justice, Stuckey has been engaged in advocacy throughout his career working directly with youth and family organizations in Virginia, Arkansas, and Texas.
He is a former professor of psychology at VA State University and holds a BS in Psychology from the University of Arkansas – Pine Bluff, an MS in Clinical Psychology from VA State, and is published in the area of cognitive psychology. His philosophy can be summed up in one statement, "People don't care how much you know until they know how much you care."  He is the proud father of two daughters.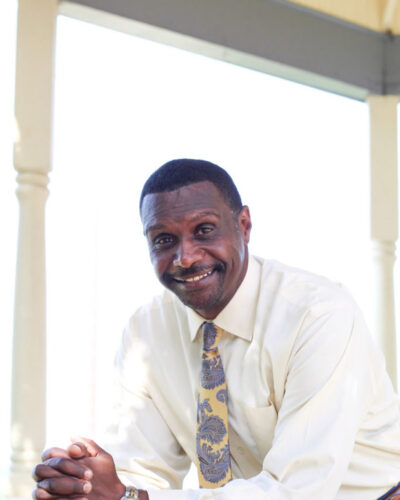 Charles Williams
Vice President of Public Housing
Learn about Charles
Charles Williams serves as the Vice President of Public Housing for the Richmond Redevelopment and Housing Authority.  With over 25 years of experience in public housing management, Charles is responsible for managing more than 3700 units of residential housing, maintaining property standards set by the US Department of Housing and Urban Development,  ensuring the quality of life issues for housing community families are properly addressed and maintaining the department's financial stability.
In addition to his BS in Public Administration from Virginia State University and Master's in Business Administration (MBA) from Averett University, Charles has also earned numerous public and affordable housing certifications, including the Accredited Residential Manager designation.  In his spare time Charles regularly participates in various community service-oriented activities.  He is a basketball official with the Virginia High School League and an active member of Kappa Alpha Psi Fraternity Inc.