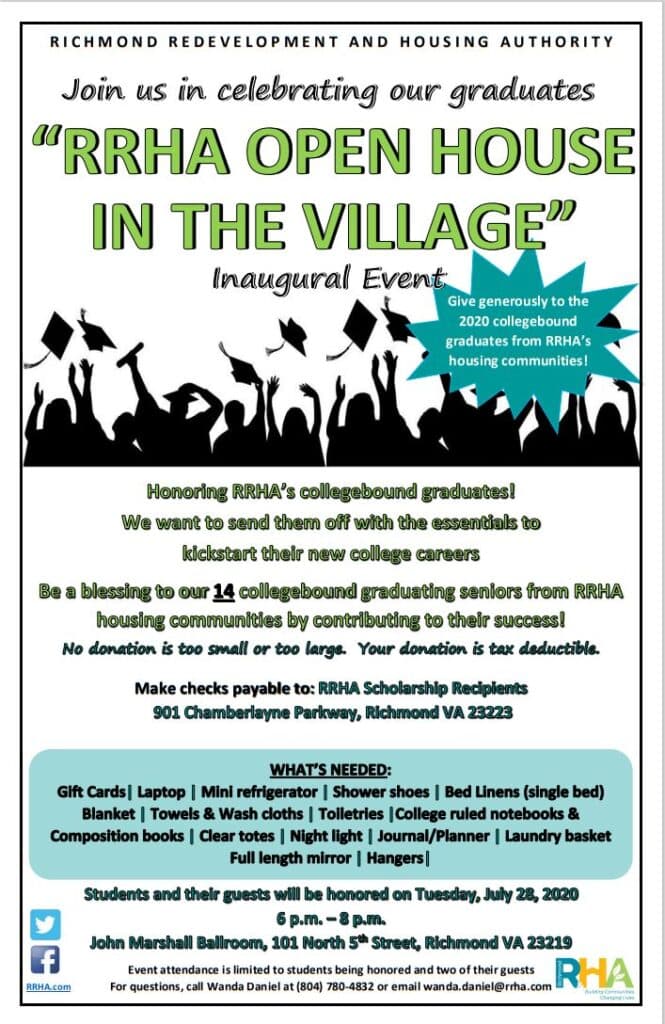 Honoring RRHA's collegebound graduates! We want to send them off with the essentials to kickstart their college careers.
Be a blessing to our 14 collegebound graduating seniors from RRHA housing communties by contributing to their success!
No donation is too small or too large. Your donation is tax deductable.
Make checks payable to RRHA Scholarship Recipients:
901 Chamberlayne Parkway, Richmond, VA 23223
What's Needed?
Gift cards
Laptops
Mini refrigerator
Shower shoes
Bed linens (single bed)
Blankets
Towels & Wash cloths
Toiletries
College ruled notebooks & composition books
Clear totes
Night light
Journal/Planner
Laundry basket
Full length mirror
Hangers
Students and their guests will be honored on TUESDAY, JULY 28, 2020, 6-8 p.m. at the John Marshall Ballroom: 101 North 5th Street, Richmond, VA 23219
Event attendance is limited to students being honored and two of their guests.
For questions, call Wanda Daniel at (804) 780-4832 or email wanda.daniel@rrha.com
---