On February 11, 2023, the Jackson Ward Community Plan team hosted the Draft Plan Event. Gilpin Court and Jackson Ward residents, planning experts, and stakeholders attended one of three sessions at Calhoun Community Center.
Community Interactions
We transformed the Calhoun Center's gymnasium into a community space with interactive stations. Upon arrival, attendees received a passport map to guide them. As they visited stations, they collected stamps that went towards winning raffle prizes and giveaways.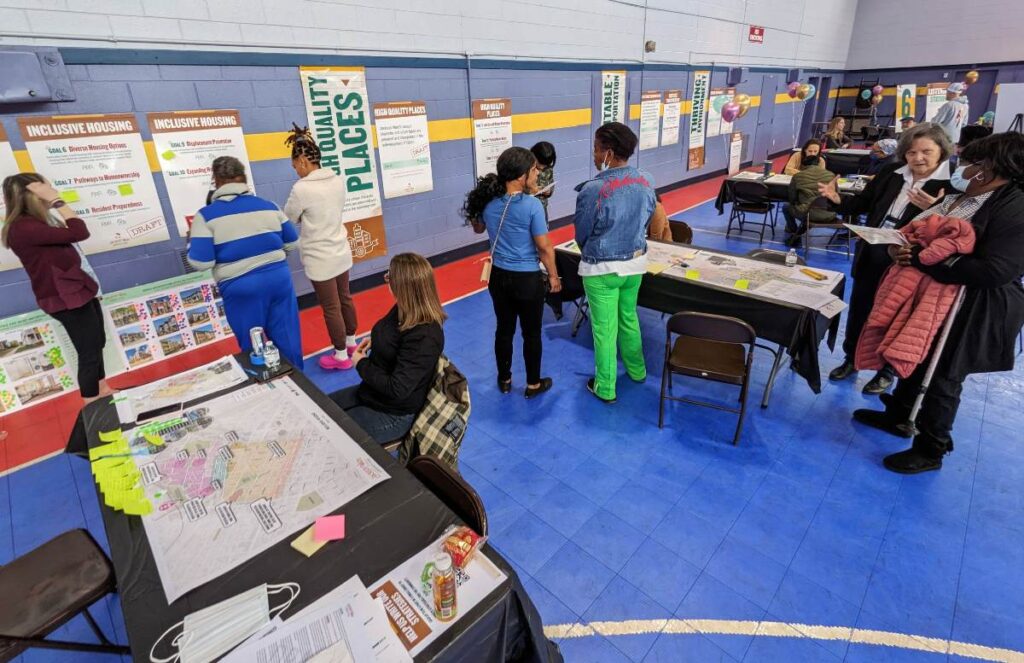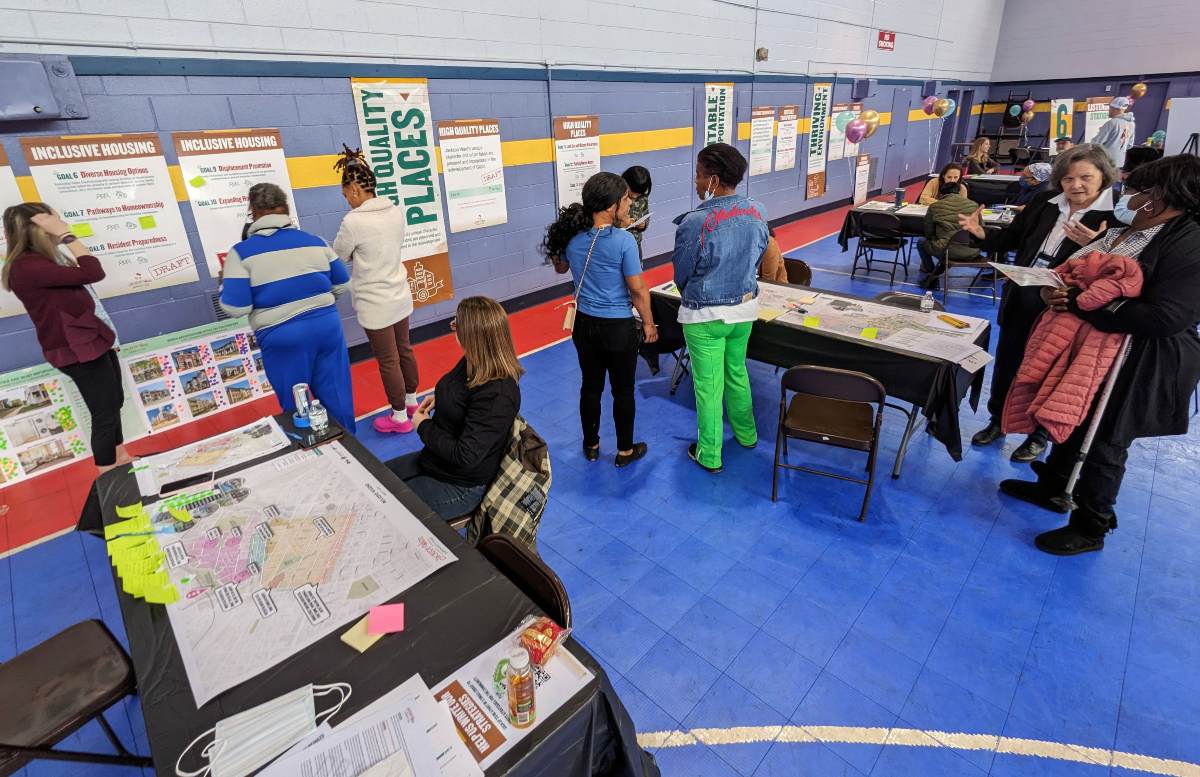 Attendees took part in many activities to learn about the project, explore maps of current conditions and proposed improvements, and review the community plan's vision, themes, and goals. At each station they had a platform to share comments and new ideas.
Resource Fair
At this session, a group of Gilpin Informed Residents (GIRs) introduced a brand new element—the Resource Fair! It let residents get in touch with organizations which provide local resources to them.
Many vendors attended, including:
The Maps
In collaboration with design and planning professionals, attendees explored two interactive maps.
The first map showed the current conditions of the Jackson Ward neighborhood. Residents shared where they felt unsafe, where stop signs and stoplights could be located, and where green building strategies, such as water collection, could be used.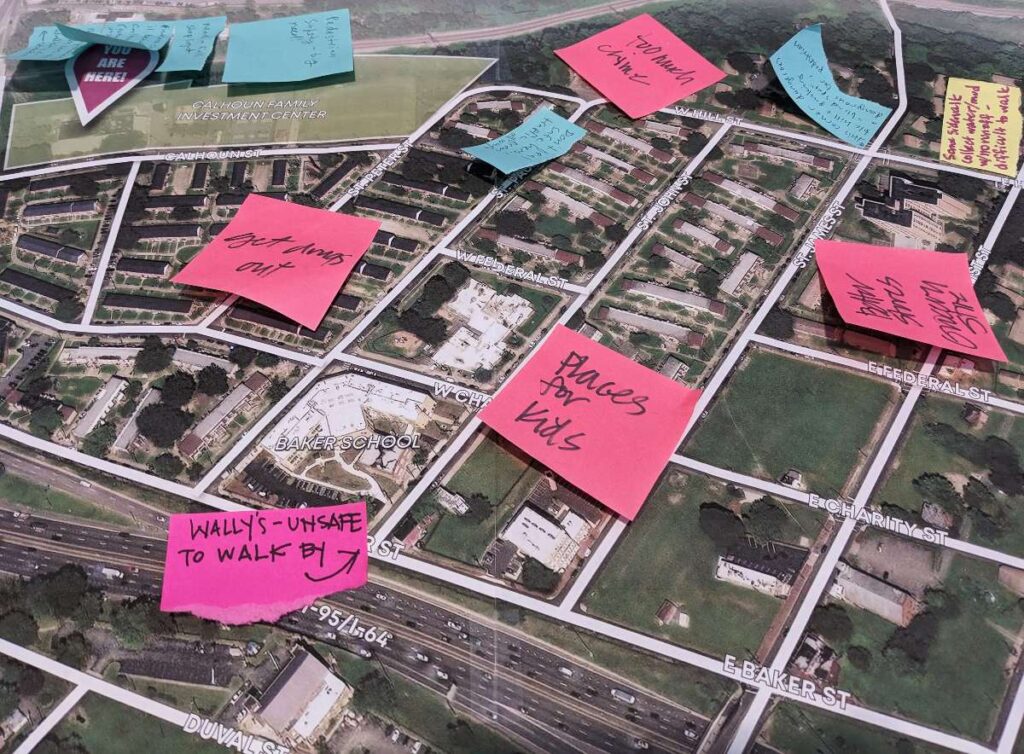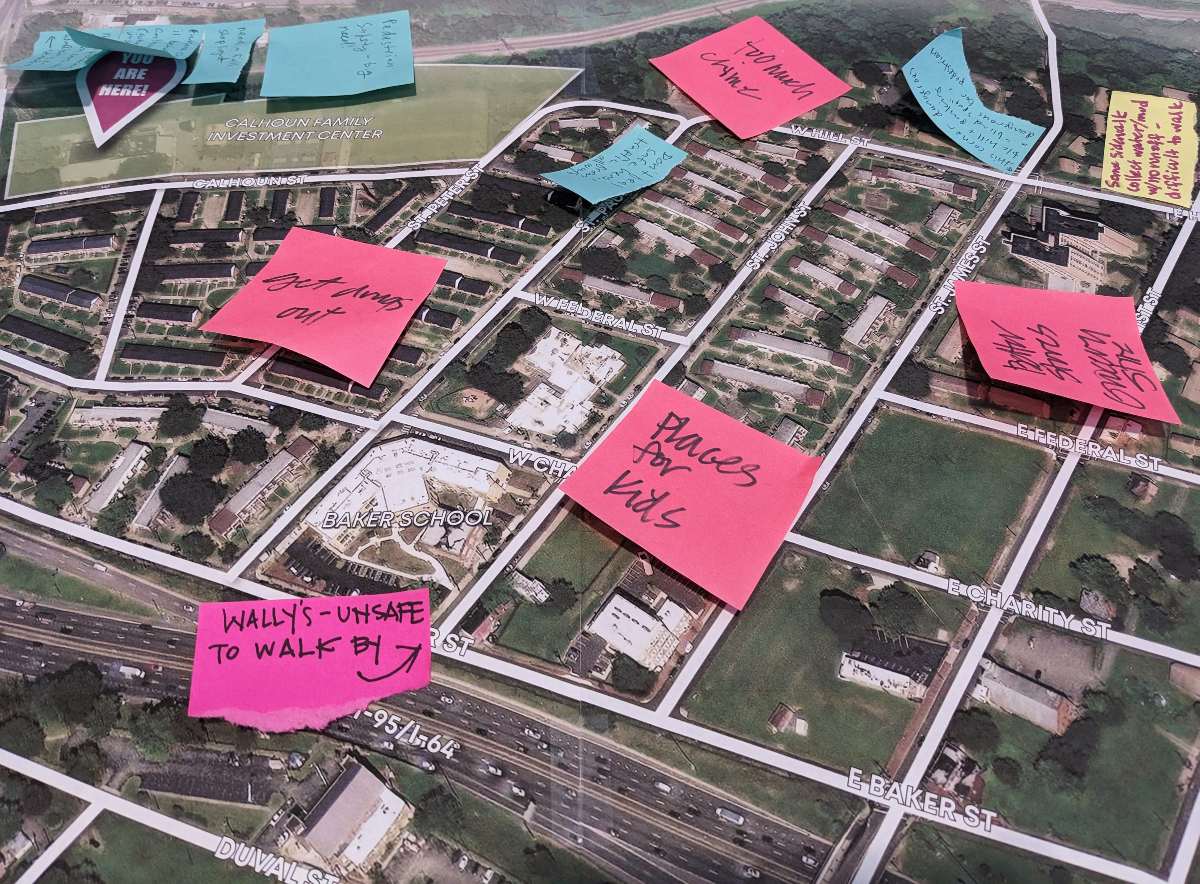 The second map showcased proposed improvements stemming from the community input since May 2022.
Residents shared the need for bus lines through the neighborhood, not around, including preferences for the proposed Bus Rapid Transit (BRT). They also recommended areas to design for after-school activities, brought up the need for affordable small business spaces, and suggested market/grocery store locations.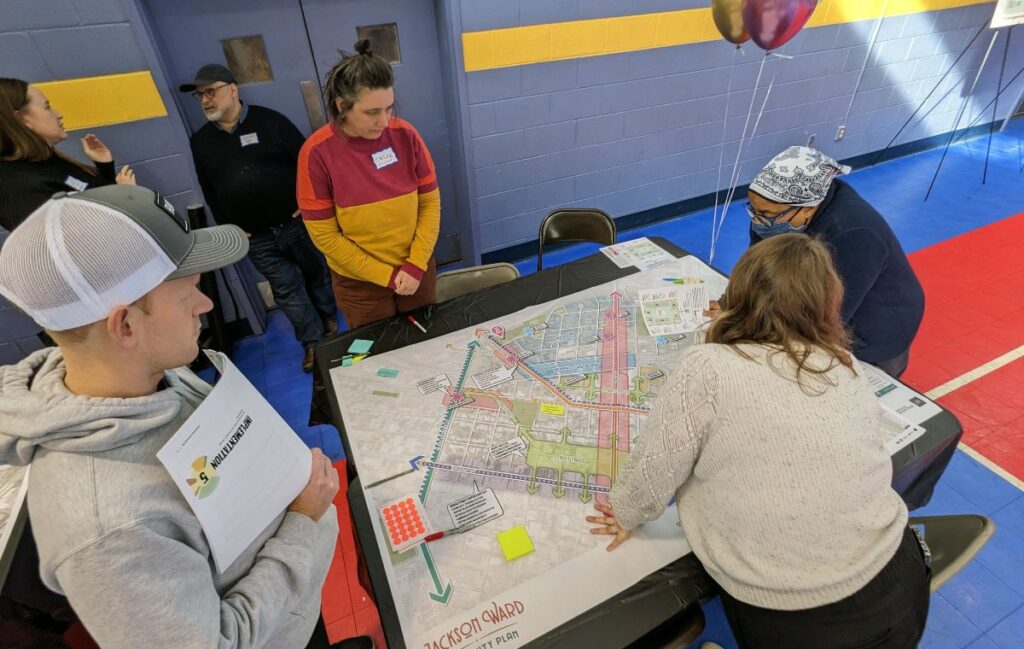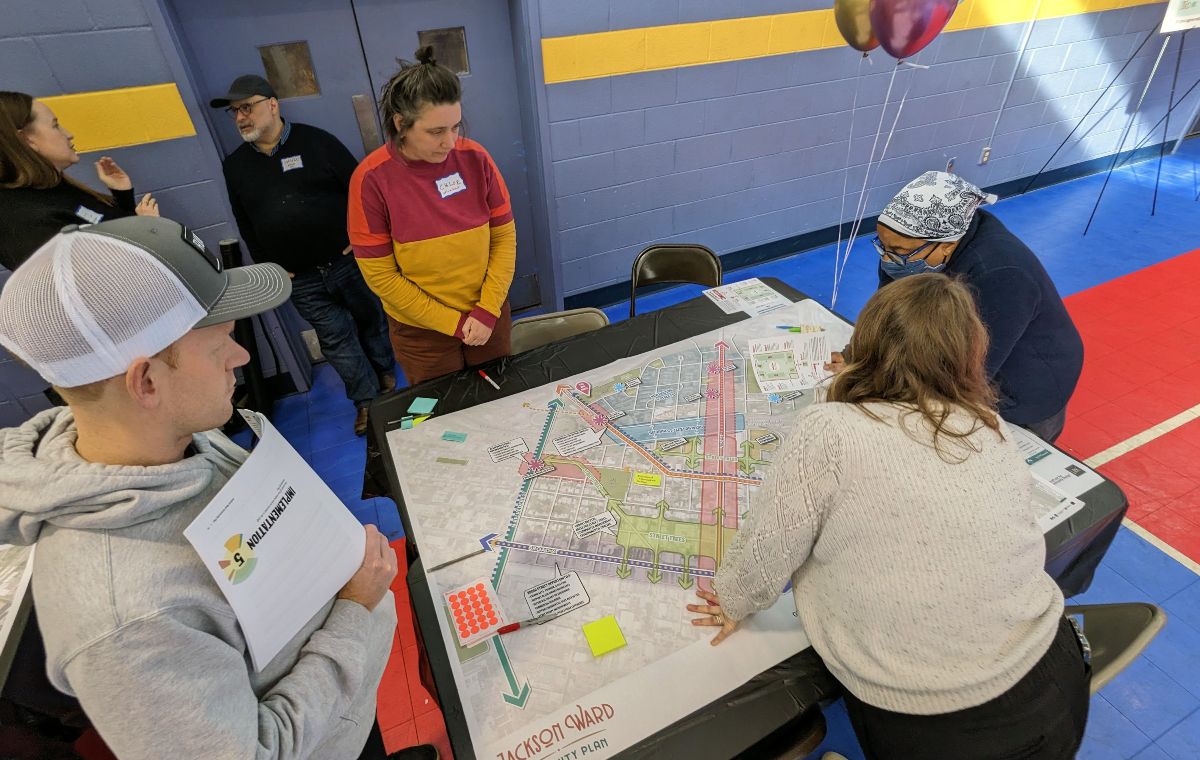 The Vision
Attendees reviewed the draft vision statement and gave feedback. Residents placed stickers along a spectrum to represent their opinions. Of those who did so, 70% agreed with the statement, 21% had a mixed response, and 8% did not agree.

Many residents felt it was a welcoming statement. They added comments to help hold the community plan accountable on key issues like providing quality affordable housing, creating more programming for all ages, and being more action-oriented.

Themes and Goals
The community plan has five themes:
Diverse Economy
Inclusive Housing
High Quality Places
Equitable Transportation
Thriving Environment.
Residents reviewed the vision statements for each. They also joined volunteers and experts to explore maps that help visualize goals for each theme.
For instance, the map for Inclusive Housing displays housing currently under construction, housing in the planning stages, and proposed housing. A proposed area to "build first" in Gilpin Court was also presented on the map.
In their feedback, residents recommended supportive housing units. They proposed tiny homes for those who do not have housing and small apartment buildings with opportunities for homeownership. Finally, they mentioned the need for family housing near parks and their interest in housing materials like masonry and brick.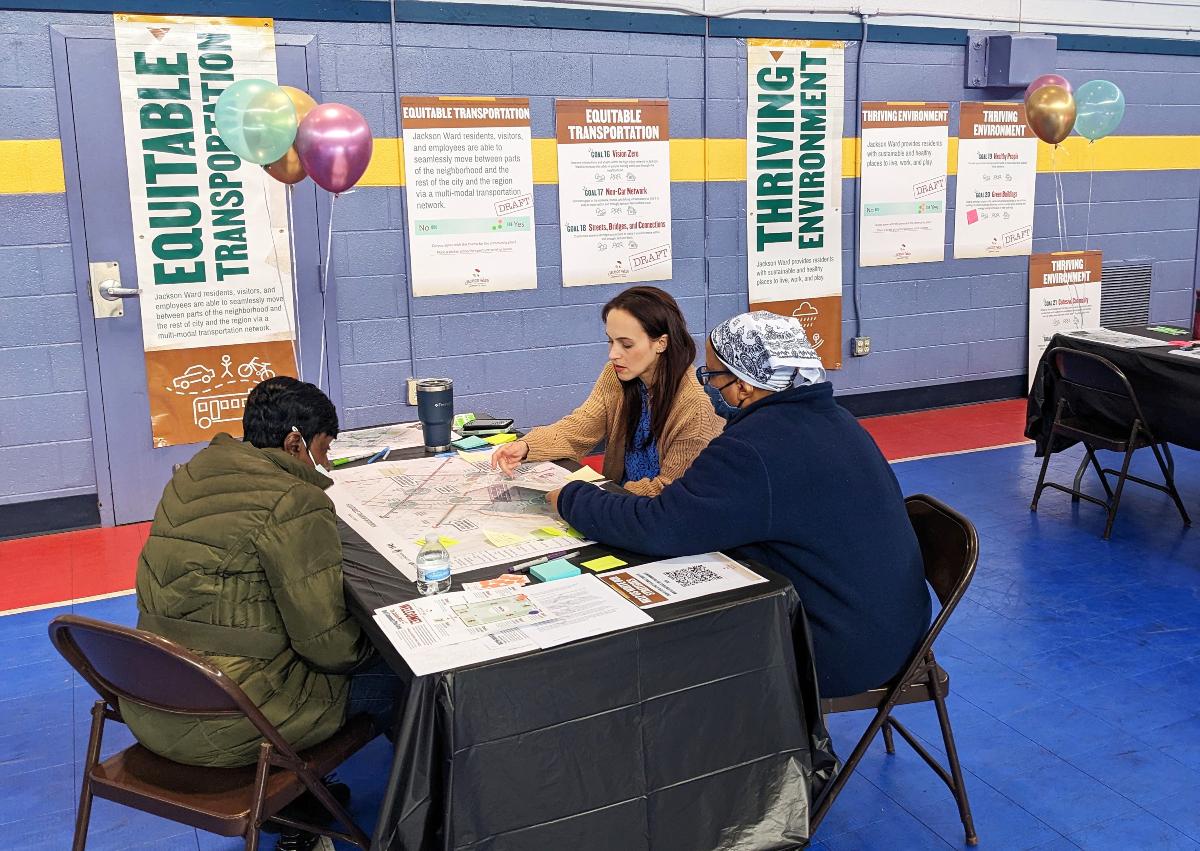 Listening Station
In June 2022, the project team hosted two community listening workshops. Residents suggested that we bring listening workshops back to the larger community events—and so we did!
At this station, residents sat with team members, sharing their ideas or voicing their concerns.
The Story of Jackson Ward
The timeline provided attendees the opportunity to learn about Jackson Ward's history, share missing elements, and tell their own story.
Residents added more items to the timeline, including the FRIENDS Association for Children, landmarks, and historical milestones.
---
Did you miss the 2/11 Draft Plan Event?
Meeting Materials
Upcoming Events
The next community meetings will be held on April 18 and April 19. Both April meetings will share the same content so you may attend the session time that's most convenient!
The team will present the latest draft community plan based on the input and ideas received over the last ten months. This is a great opportunity for you to see the next iteration of the community plan. Your comments will help the project team prepare for the Final Community Presentation in fall 2023!
Gilpin residents are also invited to join the GIRs during their weekly Gilpin Residents Preparedness Sessions, Wednesdays from 12-12:30 PM.
---