In August, the Jackson Ward Community Plan team held two workshops with Gilpin Court and Jackson Ward residents, planning experts, and stakeholders.
The meetings provided a review of the Choice Neighborhood Plan (CNP) process and an opportunity for everyone to share input and generate ideas for the future of Jackson Ward.
8/6 Gilpin Court Resident Plan Workshop
On August 6th, the team met with residents at Calhoun Center for the Gilpin Court Resident Plan Workshop. Several interactive stations filled the space, creating avenues for residents to both learn about the project and generate ideas. The goal of the plan workshop was to:
Build an understanding of how families live in Gilpin Court and the broader Jackson Ward Neighborhood
Identify possibilities for redevelopment in the neighborhood
Generate ideas for potential parks, services, safety, and neighborhood amenities
Review next steps in the process
As attendees moved through the workshop, they took part in a variety of activities to help them learn more about urban design and housing and to give them platforms to generate ideas. The interactive stations included:
A presentation about the Choice Neighborhood Plan (CNP) process and what has been completed to date.
A learning activity about housing types, such as single-family homes, townhomes, and apartments. Attendees learned about architectural styles and voted on favorites, with American Classic and Craftsman styles the top choices. Attendees also gave input about the building elements that are important to them. Residents said that walk-in closets, balconies, porches, multiple bathrooms with electrical outlets, and a bathroom with a tub were some of the elements most important to them.
An activity about neighborhood urban blocks and amenities. For example, one block may include row homes, a church, and mixed-use buildings with apartments above ground floor commercial space. Attendees voted for their preferred amenities. Residents were most enthusiastic about recreational amenities such as playgrounds and about community programming like community kitchens.
One-on-one discussions about how the community plan can assist with improving quality of life. Among the questions the team asked was, "What can we do to help you improve your health?" Some residents said that being able to easily check in with their doctor and participate in health and wellness education courses would help improve their health. Other residents thought new tree-lined walking paths would benefit their health.
The team also presented ideas for a plaza and splash pad located adjacent to the Calhoun Center. The plaza and splash pad earned the most votes at May's community events when participants were asked to choose their favorite Early Action Activities. (The Early Action Activities are an exciting opportunity to amplify the community elements that residents love, while also creating more opportunities to serve their needs.)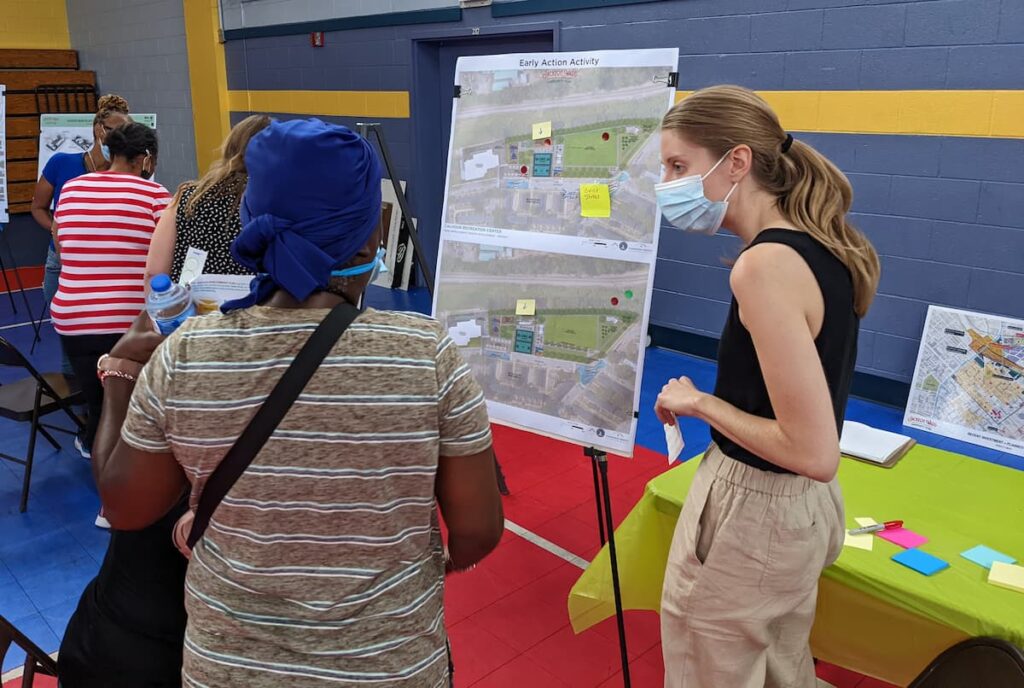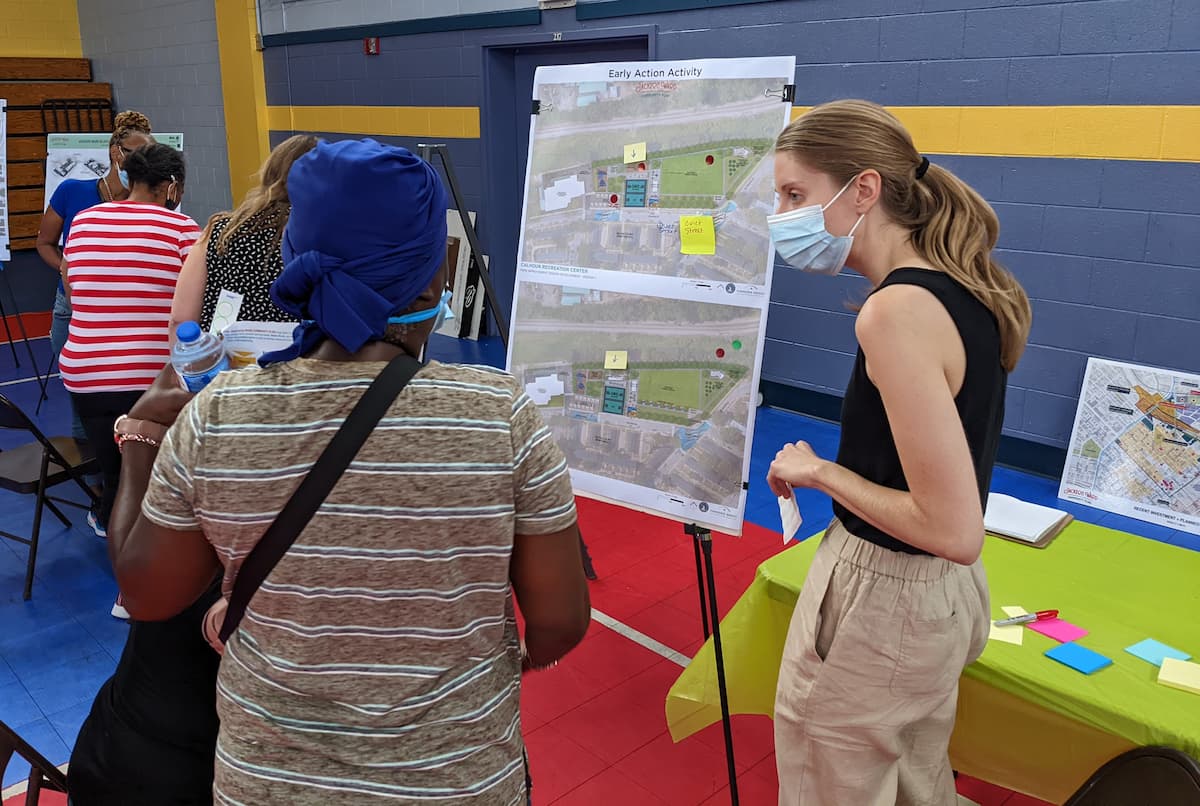 Residents were excited about having a neighborhood splash pad for the Early Action Activity. During discussions, community members also recommended lighting, a selfie wall, a quiet street alongside the park, and a teen zone for future park improvements. 
Finally, the team gave information on site-specific topics related to relocation and housing options (read the FAQ).
8/18 Jackson Ward Community Plan Workshop
On August 18, the team hosted another Community Plan Workshop at Third Street Bethel AME Church, calling on residents throughout Jackson Ward.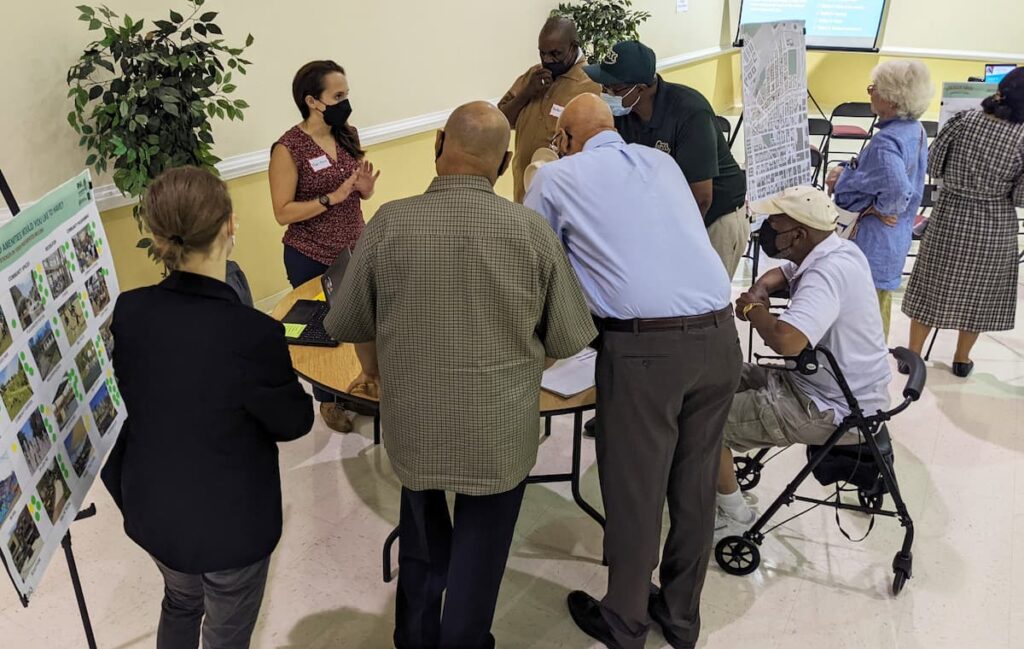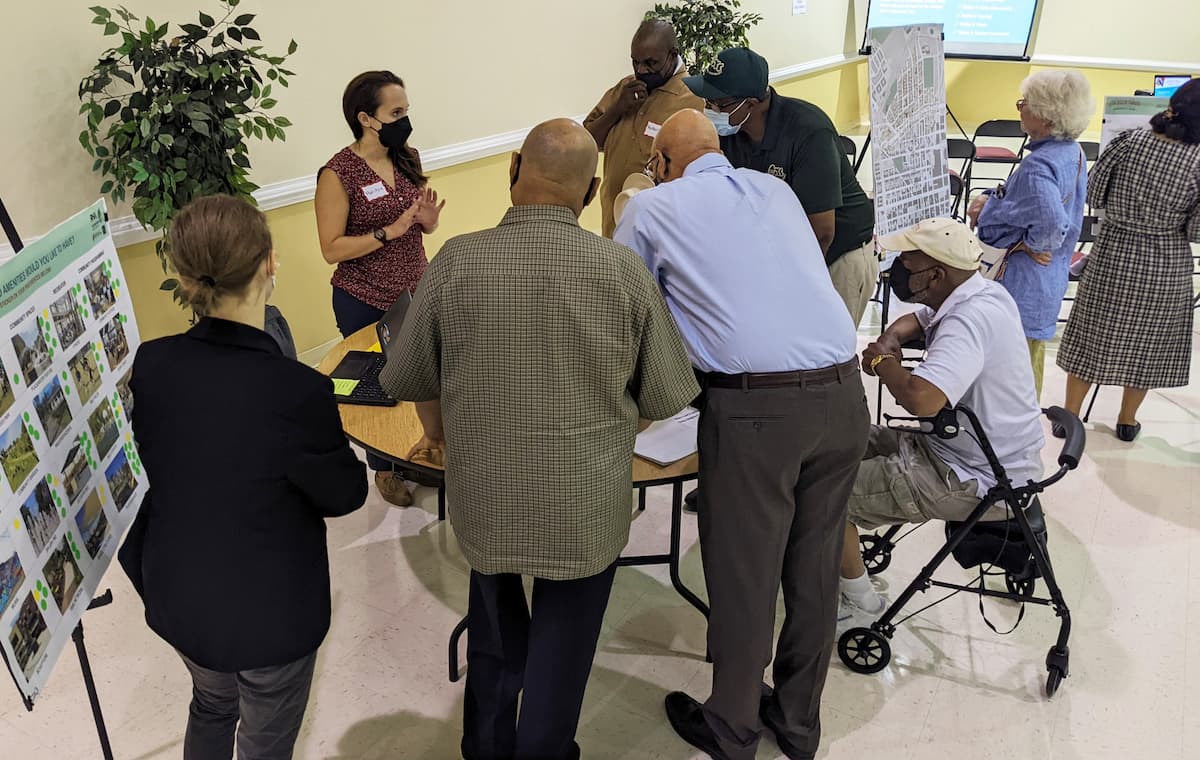 Like at the Resident Workshop, community members interacted with stations throughout the space and generated ideas for elements of the community plan focused on neighborhood, housing, and people. One activity new to the Community Plan Workshop was a Lego exercise to build urban blocks for the neighborhood. The activity explained different housing types like duplexes, triplexes, and townhomes. It showed how different block configurations can be designed with these housing types. Residents were challenged to create their own urban block using their favorite housing types.
The team looks forward to continuing using this exercise in future meetings to help generate ideas from residents on how the neighborhood blocks can be designed throughout the community plan.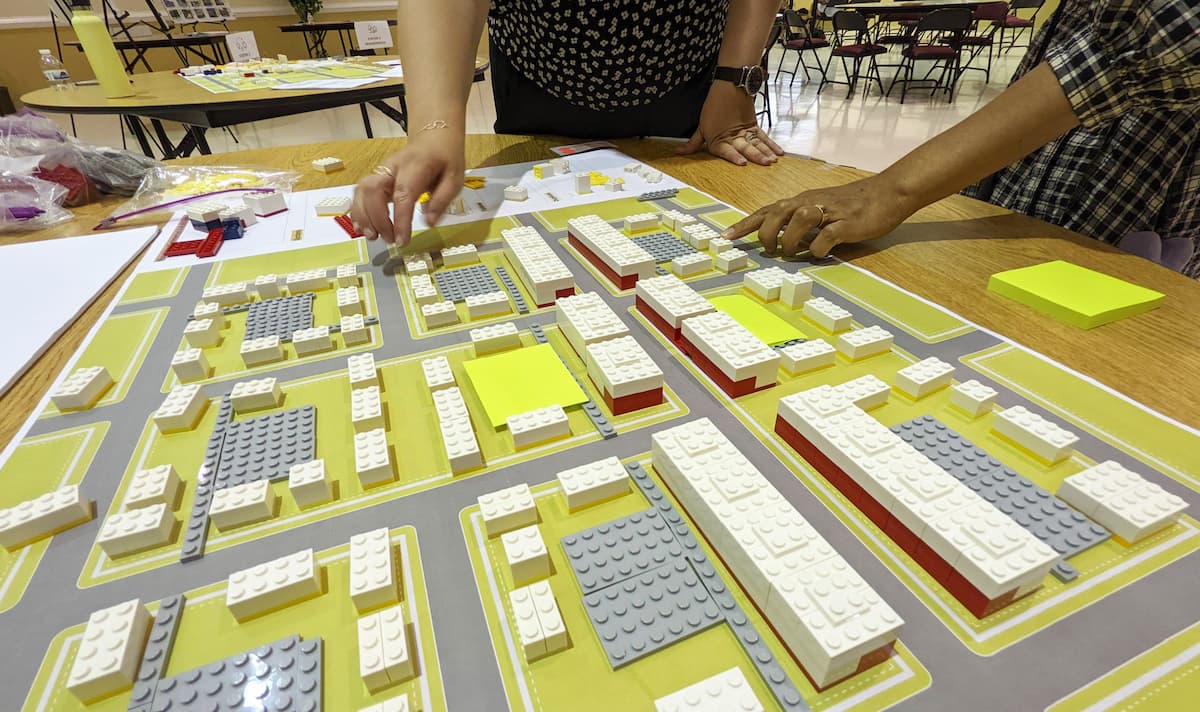 Did you miss the Plan Workshops?
August Meeting Materials
There will be more opportunities to participate!
Take the Gilpin Court Resident Online Assessment and/or the Community Online Survey.
The next community meeting will take place on November 1. At the Jackson Ward Plan Alternatives Workshop, the team will present community plan alternatives based on the input and ideas received over the last four months. This is a great opportunity for you to see the first concepts of the community plan and provide comments.
---